Contact lenses are a preferred method to correct visual issues for many people. To determine if contact lenses are the right choice for you, your optometrist will need to understand your corrective conditions and needs. Your optometrist will go through a comprehensive exam before prescribing your contact lenses, which will help to determine if contact lenses are right for you.
Suppose you have never worn glasses or contact lenses before and are experiencing a new condition in your visual health. In that case, your optometrist will be able to guide you to find the best form of treatment for your corrective issues. You must undergo an eye exam to understand where your visual issues are coming from.
People often assume that contact lens prescriptions are the same as glasses—this is not correct. Contact lenses sit directly on your eye, while glasses sit in front of the eyes, which makes the prescription different.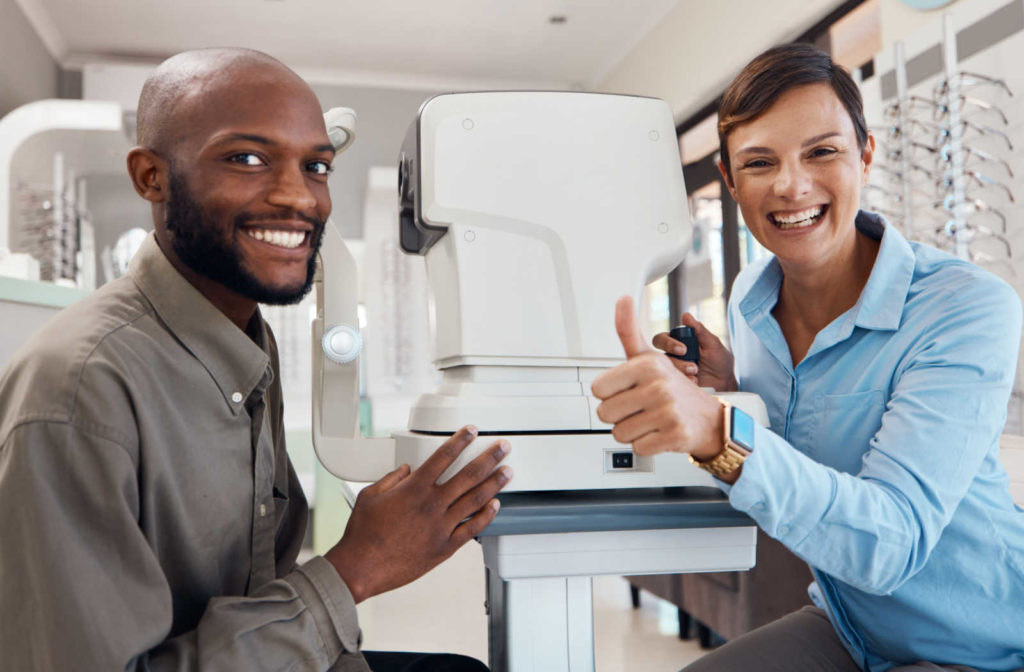 Bifocal Contacts
When people think about bifocals, the first thought is not often associated with contact lenses. Bifocal contact lenses can be a great alternative to traditional glasses, often giving people more freedom with their visual needs.
Bifocal lenses are multifocal lenses with more than one prescription in a single lens. Often bifocals are used to correct vision conditions such as presbyopia, a condition where the eye is unable or loses focus on things nearby. Different types of bifocal contacts can meet your needs, such as:
Extended-wear contact lenses: These are designed to be worn for up to 30 days, and are also available as soft lenses.
Soft contact lenses: These are made so that they are breathable and let oxygen flow easily to the cornea.
Rigid gas permeable contact lenses: These are designed to be tougher than other contact lenses to provide a more crisp and clear vision while reducing build up.
Contacts for Astigmatism
Astigmatism is a condition that is caused by an imperfection of the eye, which leads to blurred vision at a distance and within close range. The front part of the eye, the cornea, will be misshaped and, instead of being round, more egg-shaped, causing astigmatism.
Contact lenses for astigmatism offer a variety of options based on your needs.
Soft contact lenses are often a good option because they are quite comfortable. Their softness and flexibility allow the wearer to have more comfort and not run the risk of falling out.
Rigid gas permeable lenses allow for more oxygen flow and breathability. They may be less comfortable as they are firmer and retain their shape on your eye.
Hybrid contact lenses are a combination of rigid gas permeable and soft contacts. They are often bigger, allowing more movement and physical activity without falling out.
When choosing contact lenses, it is important to undergo a contact lens fitting exam to help you get the right fit for your eyes.
Are There Risks of Wearing Contacts That Don't Fit?
If your contact lenses do not fit correctly your eye, there are risks of scratching or damage to the surface of your eyeball. Cleaning your contact lenses is an important part of your eye care routine that can help decrease the risks of damage or injury.
Depending on the shape and condition of your visual health needs, your optometrist can help you to find a contact type that's right for you. As with traditional glasses, over time, your prescription could change. This will happen with your contact lenses as well. You will need to have regular fittings to make sure that your contact lenses remain a good fit for your eyes.
Learn More about Your Contact Lens Options
If you want to change your prescription from glasses to contact lenses, book an appointment today with the optometrists at Annik Eye Care. We're here to help you find the best options for your visual health needs and can help you understand your choices along the way.
Your eyes are important to us, and we want to ensure you are comfortable with your choice.